The 4 critical elements we use for facebook marketing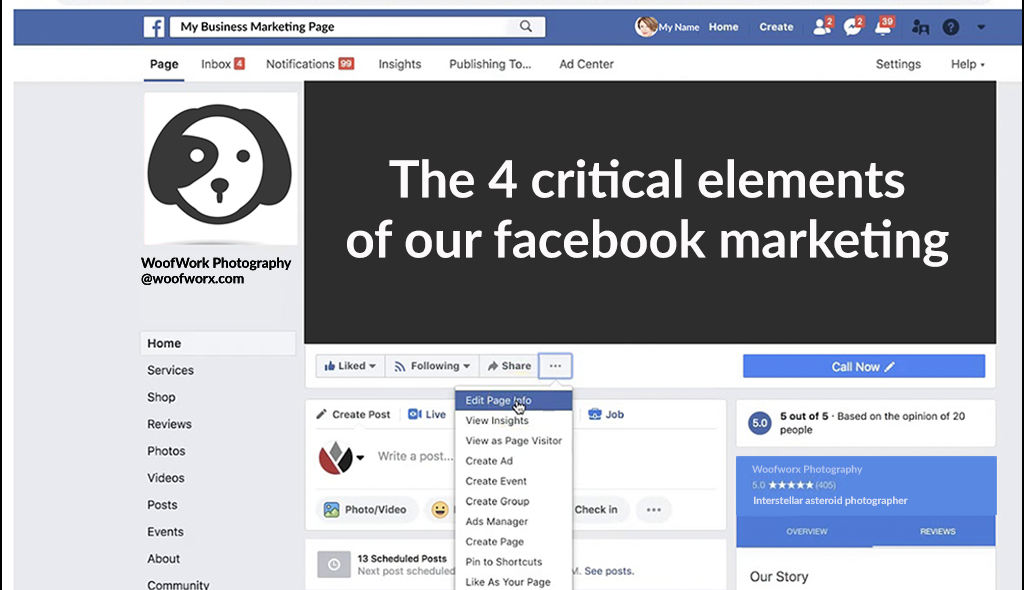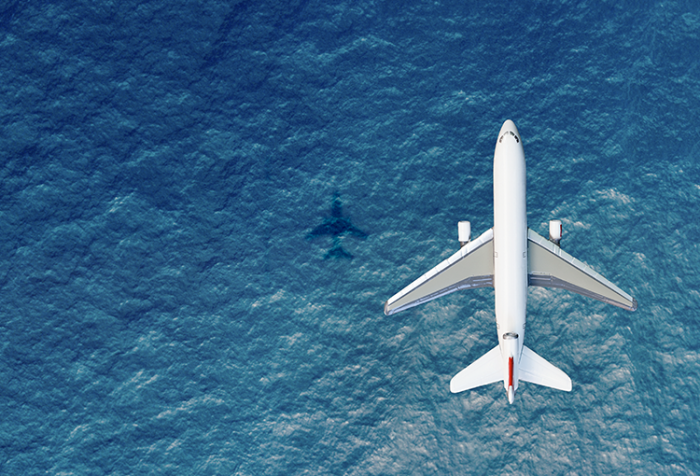 Learn how we operate our facebook assets to generate a consistent stream of well qualified leads.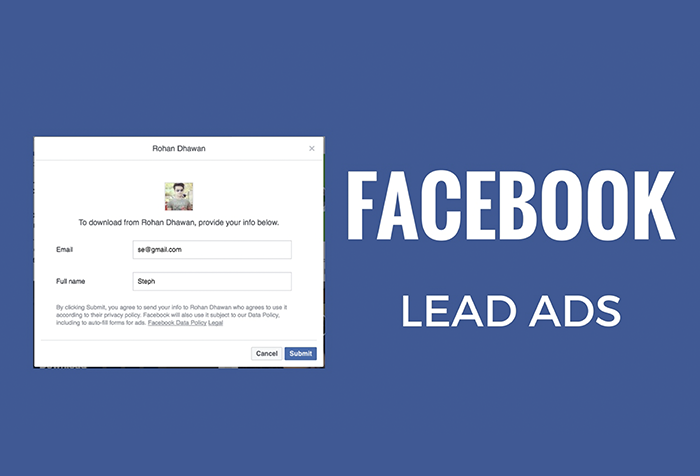 Learn about the stuff that's hard to find, but which makes so much difference to your bottom line.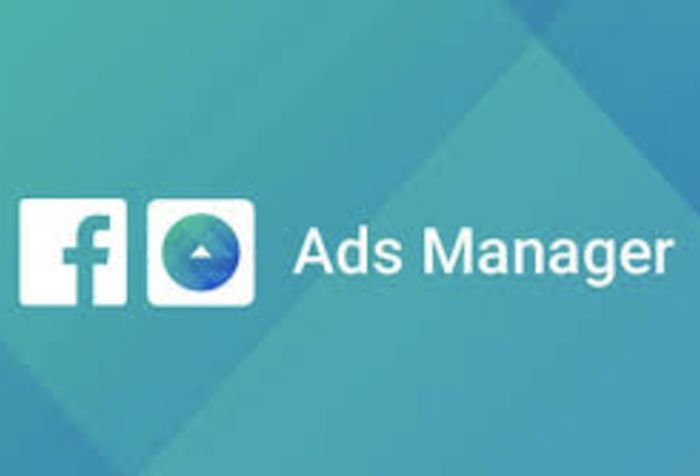 This is the heart and soul of all the data on who, how, where, when people saw your ad.
We only use facebook because we have found it so staggeringly successful that currently we are not looking for any other social media solutions.
There are plenty of ways to use facebook ads but this is ours and it has worked remarkably for us.
Your facebook business page is where you will be able to interact with your business manager and ads manager which are two of the most important things we use, ads manager is where you can set budgets and finely control your ads whilst continually testing and measuring the results. When you can do this, you will be able to make commercial decisions on the best performing ads to continue running. There is a lot of choice when you're starting out and it takes time to learn what is the best thing to do is for your business.
You must also consider that campaign types work differently for each business and the same campaign type can work differently for different parts of the same business. We have combed through every possible combination for more than a decade now so we receive a consistent stream of well qualified leads which save us time and money dealing with the wrong people, and maximises our opportunities for big sales.
The 4 things we use our facebook business page for.
There are enough articles on how to set up your business page on the internet so we won't dig the same hole twice, but what we will do is show you how we use ours to generate the traffic  that produces our 7 figure turnover.
I think you'll be able to find most of the relevant info from Facebook Blueprint, this is produced by Facebook themselves so is kept up to date and is the advice straight from "the horse's mouth".
One of the things we use a lot are lead forms, open your business page and click on 'Publishing Tools'

Over on the left hand side toward the bottom you will see 'Lead Ad Forms' so click on 'Forms Library'

and when this opens, click on 'create' in the top right

We will create a new form so click on 'New Form'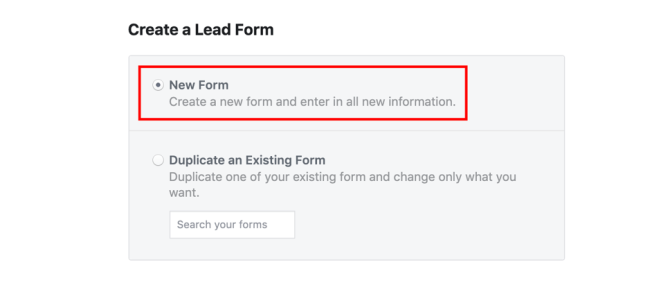 At the top, give your form a name so that you can find it again

We will go for a 'more volume' form as we are interested in attracting prospects with an offer

Click on the button next to 'Intro' to open the options

Enter a headline that people will respond to, upload the image you want to use and provide a description of the offer you are proposing, you can how these entries appear with the arrows on the right of the image below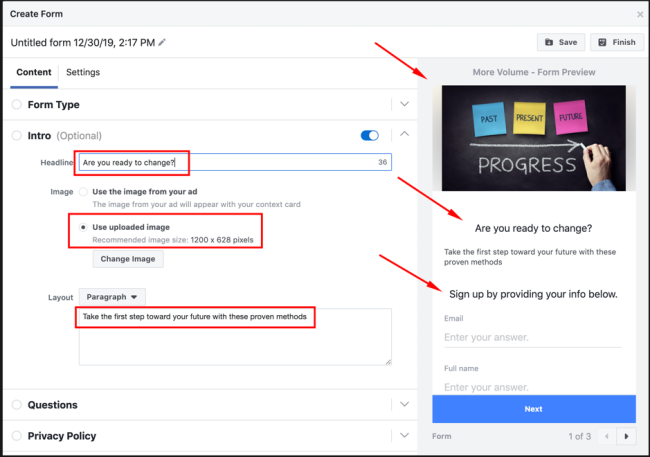 Next, click on the 'Questions' button to open the options

Once again, enter a compelling headline, you can leave the first two information fields 'Email' and 'Full Name' but you will want to call them on the phone so  click on 'Add New Question' and then 'Contact Fields' and finally choose 'Phone Number.
Be aware that this information is taken from the facebook users profile so don't get too fancy and add loads of question as the information will probably not be there. This is all the information you will need for this exercise anyway.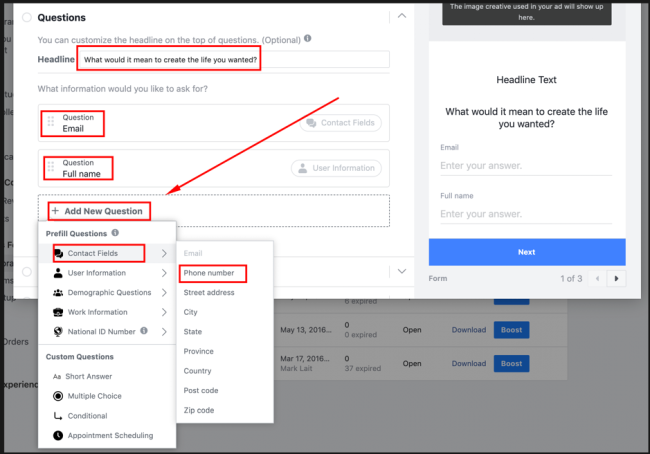 Now click on 'Privacy Policy'
You will need to provide a link to your privacy policy and you can find an example in the resources section of this website, paste this into your terms and conditions page and then put that link into the 'Privacy Policy' section of the lead form page.

IF YOU DON'T DO THIS YOUR FORM WILL NOT BE PUBLISHED.
Finally, click on 'Thank You Page' to open the options

enter a headline and description in their respective fields and put the link to your website at the bottom  for people to follow
That's it! YOu're done and now you have a lead form to use with your ado
To evaluate the progress of your ads, go to your business manager at business.facebook.com and click on the 9 dots next to 'Facebook Ads'

And then click on 'Ads Manager'
To open the following window.

We have three divisions in our business, family, pets and glamour. In order to be able to test which division is the most profitable we run separate accounts for each one and you can do this in the ads manager by clicking on the dropdown in the red box below

and then choosing which account you want to investigate, you will see that there are three tabs at top, 'Campaigns', 'Ad Sets' and 'Ads'

Once you open the division you want to look and click on the 'Campaign' tab and click on the 'view charts' link below the campaign you want to report on

You will need to define the time frame for your reporting by clicking on the reporting period calendar in the top right of this window, so set it to the date range that your ad was active

Once you open this, you will have loads of metrics on which you can gauge the success of what you have need doing and make the necessary adjustments. Make sure you check out the edit, and history tabs to see what your historical movements were for this campaign and also, have a look at the demographics, placement and delivery links to see the breakdown of ages and genders who saw your ad.

This is the stuff that can be really hard to find if you haven't done it a thousand times but it is also the stuff that matters when you are making financial decisions about where your marketing money goes. Give it a try and if you don't have any luck, get in touch and we will put you in touch with an expert who can help you.
YOU CAN REPORT ON THE OTHER ELEMENTS EXACTLY THE SAME WAY BY CHOOSING EITHER
THE 'AD SETS' OR 'ADS' TAB FROM YOUR ADS MANAGER

I first found this under 'More' and Then 'Publishing Tools' on the business page, it wasn't where I expected it to be but anyway – there it is 
#3 - Creating A New Audience
If you don't have any audiences set up, you are going to need at least one to present your ads to, this can be done a number of ways if facebook but let's create a new audience to use when we are creating an ad, go to  your business manager business.facebook.com (this will automatically open up the business page you created), click on the dots

And then click on 'Audiences'

In the next window, click on 'Saved Audience', give your new audience a name and then in the location window, beside the word 'Include' type the name of the area you want to target and choose from the options presented.
Now use the 'Age' and 'Gender' fields to choose you desired age group and gender targeting options.

We don't bother with the language setting. Underneath this in the 'Detailed targeting' section, if you type the word 'surfing' into the search box and choose the first option

You will see that you have now created an audience 1.3 million 30-65 year old men who live in Sydney, that's a pretty impressive sized audience to market to!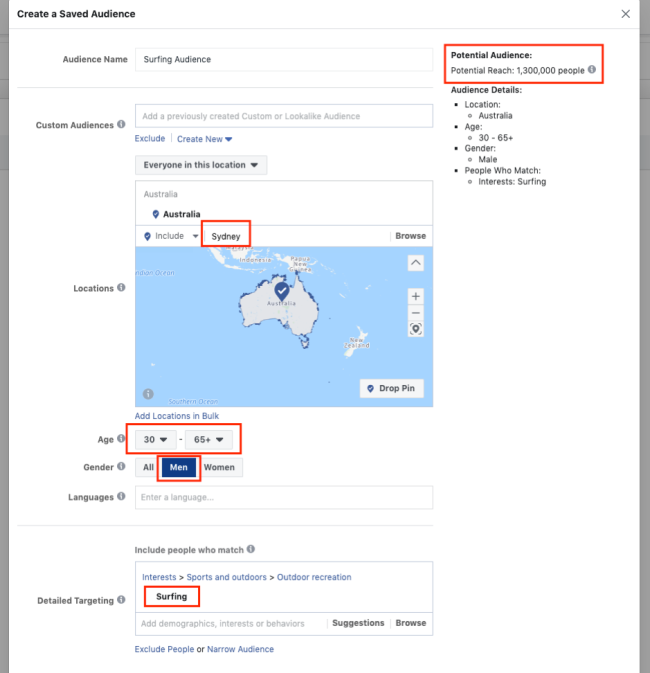 We'll talk about the connection type in another tutorial but for now, make sure you click 'Create Audience' in the bottom right of this window so that your new audience is available to you any time in your audiences register.

Check out the 'Creating ads' tutorial to see how we will use this pre-made audience with our ad creative.
All ads start with the campaign they are under, followed by the ad set within that campaign, so when you open your Ads manager you will see that the 'Campaigns' tab is highlighted, click on 'Create'

On the page that opens, click to 'Switch to  Guided Creation' in the top right corner, as I have said all along, you don't need to be an expert to get started, you just need to start, so if facebook ads are new to you or they present a bit of a challenge, use this options as most of the work is done for you – I still use it because it's easy and I'm lazy.

Once you're in here you can follow your nose pretty well, depending on the type of campaign you want to create, we've found lead ads great so here's a quick run-down on how to create one.
On the 'Guided Creation' page, select 'Lead Generation'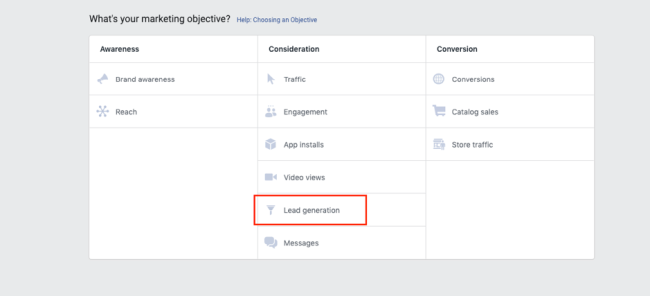 Now name give your campaign a name, choose whether you want to use a daily or lifetime budget from the dropdown menu (we have chosen lifetime for this example) and enter the amount you want to allocate to the campaign. We haven't worried too much about split testing, the results we get are fine without it.
On the next page you have reached the 'Ad Set' level so give your Ad Set a unique name and from the 'facebook page' dropdown menu, choose which page you want the Ad Set to apply to.

Don't worry about the catalog bit, we've never used it. If you haven't done so before you will have to have an audience to present your ad to and this can be misleading. Immediately you will think you have to go to the Create New dropdown > Custom audience option but steer clear of this for now.
In the 'Audience' section, click on the dropdown next to 'Use Saved Audience' and choose the audience you created earlier
You will see the criteria you chose populate the bottom part of the window

In the 'Placements' section, we prefer to leave it on 'Automatic Placements', facebook gets this stuff right most of the time, after all they want to help you achieve success so that you will use the service again and again like we do.
Click on 'Edit Placements' just to see what's in there but beware that you can easily mess things up in here by thinking that you know better than the machine, our preference is to let the machine do the work and we will continue to do so until it shows us that it cant' don't overcomplicate it for yourself.
Next you will choose how long you want your ad to run for so in the calendars in the 'Optimisation and Spending Controls' section, enter the dates that you want the campaign to run for and then click continue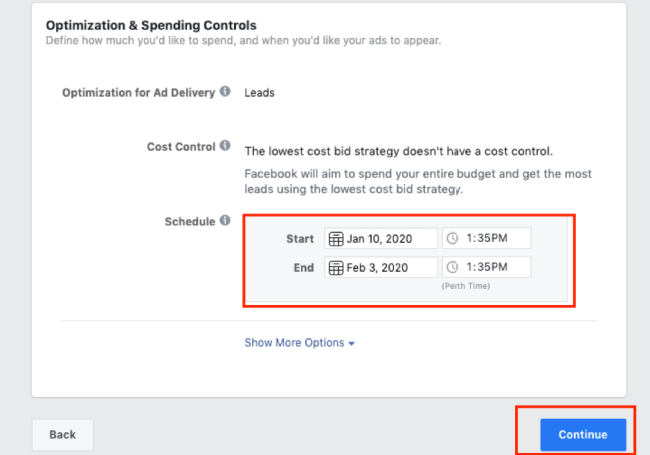 You have so far created a campaign and the associated ad set, now it's time to create your ad and this next page is where you will do that, again, enter a name for your ad that you will be able to find later once you have multiple ads running and from the 'Identity' section, the facebook page field is usually pre populated with the identity you chose to use your ad with, if you have an Instagram account for the same business, enter it in the field provided and select 'Single Image or Video'.
We have found these to work best but feel free to experiment.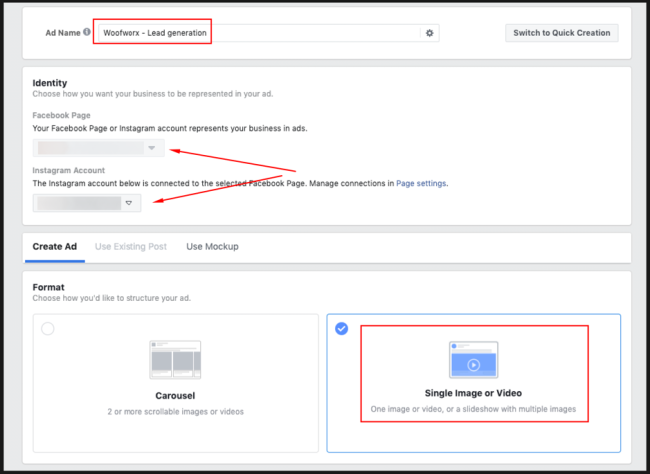 Next is the 'Media' section where you will choose the image you want to represent your business, the dropdown menu next to 'Edit Image' will allow you to change or crop your image and the arrows show you that you can switch between ads and use different images if you are performing some split testing, note on the right of this screen that there are recommendations to follow.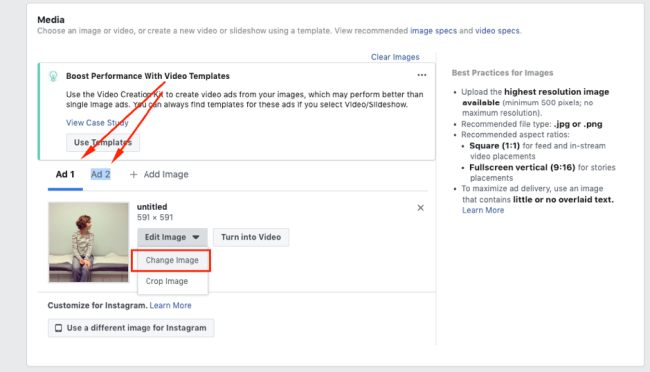 Now we move on to 'Text and Links' as per the image below, whatever you enter into the appropriate boxes is reflected 'live' in the ad preview to the right so fill these out with your specific messaging and move onto the 'Instant Form' section and click the radio button next to the form you want to use (the one you created earlier)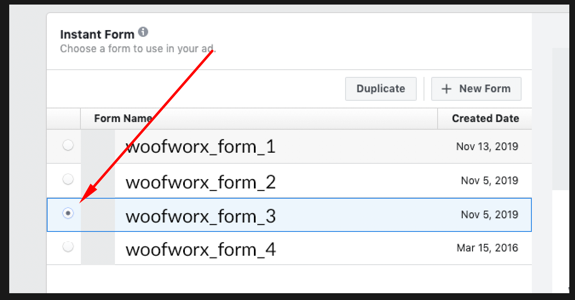 Once you click on the form you will see the content appear next to the radio buttons, use the arrow to click through to see all of the content from that form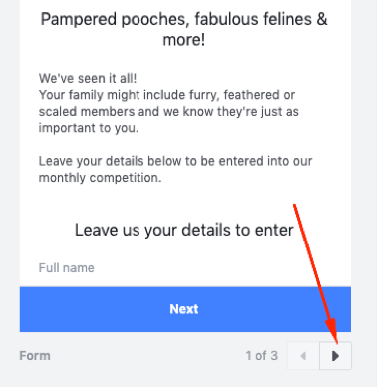 For now we won't concern ourselves with any of the options below this so click on 'confirm' to place your order.
On the next page you will see the ad placed in your ads manager awaiting review before it goes live at your scheduled time.

Well done! – you've created your ad from start to finish and you're ready to rock. If you have any difficulty doing this and would like someone to help you please get in touch at hello@makemoneyfromphotography.com.au  and we can provide you with expert help.
We can even get the leads for you and deliver them straight to your inbox if you like, this is one of our managed services which you can find out more about in our 'Shop' tab